This is a lovely pattern and I'm really enjoying knitting it up. So much so that I have already gotten over the guilt of not finishing off my Ivy. I promise I will get around to it sooner or later but I love knitting this yarn, it is so soft and fluffy!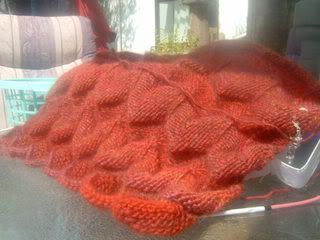 So here it is draped over my knitting bag in the sun this afternoon. It's actually quite difficult to get a true picture of the colour as there are so many shades of red, pink, brown and orange. I can understand why the shade is called fire, it's fab.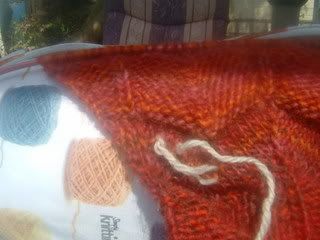 I'm really looking forward to being able to wear it and I'm not even halfway up the back yet! The pattern has such a lovely texture it's going to look great. I am still a little concerned about the amount of yarn that I am using but on the whole, it seems to measure very close to the dimensions quoted on the pattern. Will have to wait and see.
Regardless of that, the yarn is great - it's my first experience of using it and I can definately see me using it for something else again. Maybe even another of these jackets. It obviously felts very easily as I did my first ever felted join when it came to adding the second ball. Something that will obviously have to be remembered when it comes time to wash it. The last thing that I will want to do is to shrink it!