After a couple of months of procrastinating, I finally lined my Noni bag. Yes it was a b***er to do as I have already documented but I think you'll agree it was worth every minute. Pleased? Me? Yes I think so!
Anyhow seeing as this was started pre-blog, I thought I'd share a couple of snaps to show it before felting.
A close up of the cables. Simple very very effective.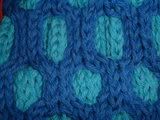 The knitted bag.
and, the base.
The pattern: Noni Lattice Bag from the Fall 2006 collection. Knitted in Cascade 220.
Would I knit this again? For myself, no as I don't think I really need two the same but I'd definately knit it again as a present.