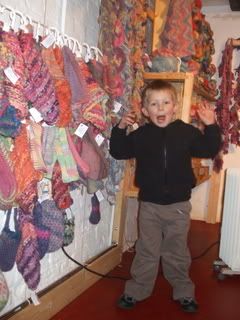 I know I said I wouldn't be buying any more yarn but how can you go to somewhere like the Natural Dye Studio and come away empty handed? It was of course, an absolutely fantastic morning. The sun was shining, it was an easy run over and I found it without getting lost this time around. Mum and I ended up at the penal colony last year - yes out in the wilds of Suffolk turns out to be the perfect place to keep crims. It's incredibly isolated which is probably why the RAF made such good use of it during the war. There's still a couple of the bases up there as and my aunt commented when we drove past one of them, "wow, they could have filmed Colditz here". This time, I went armed with a map just in case but to be honest, I didn't need it in the end. I honestly don't know how went went wrong last time it's pretty much a straight run through once you get to Sutton Hoo. Don't let the comments about the military and the crims put you off though, it's a very beautiful part of the world. It looks like there'd be some really good walking around there and you're very close to the sea as well.
Anyhow Amanda welcomed us with tea and biscuits and a tour of the studio. She'd got one of her dye vats on the go and we all got to see her in action. I think everyone was impressed with the indigo and it's fascinating to see the way the colours change with the air and also the variation in colour produced by the different yarns. We poked through all her bottles and jars and asked lots of questions which Amanda very patiently answered. Actually, she obviously really enjoys what she does and seems only too happy to share her enthusiasm. If you get a chance to head out to Suffolk, it's definately worth calling in to visit.
We all spent far too much time fondling the yarn and of course, everyone came home with something. I bought some laceweight myself, it's Venus (Alpaca lace) in a very pretty pink and blue and some of my favourite NDS yarn, the BFL Dazzle 4ply sock. They actually produce several other sock yarns but I absolutely love the Dazzle.
I think this one's in the Peacock colourway. Even the Mighty Midget who joined us at the last minute for our trip seemed to enjoy himself. That's him with the wall of yarns pulling yet another silly face. He doesn't seem to be able to look at a camera without pulling one these days. Hopefully he won't be trying that with the school photographer next month or there's going to be trouble!