Just a quick update on progress, my Chevron Jacket continues to grow.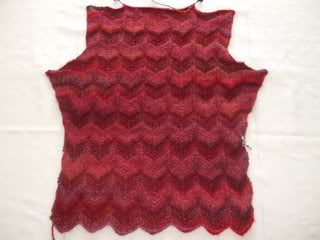 The back is all done and I'm started on the first front. It's actually a little bigger than this now as I've been meaning to post this for the last two days (yes I know I'm slack).
I'm still loving this yarn and finally getting over my misgivings about the yarn quantities. The back took a little over 3 balls so maybe I will actually only use the number stated. I love the fact that you knit the front borders as part of the front - no picking up hundreds of stitches at the end. Yay!
While I had the camera out I thought I'd post an update on my Ivy. Yes, it is still a WIP.
I've only managed the back and the first front but it's looking quite good. One day I will actually finish it (hopefully before the winter) but I can't help feeling that I might actually be knitting this for mum rather than myself. I think it might be a little short in the body for me after all. I think this is probably the main reason I've been getting so easily distracted from it. Bit of a shame that, needless to say, mum rather likes it. Hmm, Christmas present maybe?