A strange title for a post perhaps but I do my mean
Monkey
socks not small furry animals! I cast them on yesterday and am ready to start the 5th pattern repeat for the leg. This is my first time using the long tail cast on (I'm a cable girl usually) and it's certainly stretchy. I um, had to try them on after 2 repeats just to check of course. I think it's definately going to be my preferred method for top down socks from now on. That's assuming I don't run in panic back to my comfort zone of the toe up method.
I was getting a bit concerned that the pattern was using too much yarn but I've checked my tension and it seems ok. Last time I used this yarn from the NDS, I used bigger needles and ended up with lots left over so I'm sure (I hope) I'm worrying unnecessarily. So anyhow, pictorial progress:
I'm enjoying knitting these so it could be a first of many.
The baby cardi for Lorna's baby is well under way now. The back is all done now - it's so dinky! I've got used to knitting for DS and he's grown so much, it's hard to believe sometimes that he was actually this small! I really must check up to see when her due date is as I've not heard from her for a while. I found an old Emu pattern tucked away in my cache for some 3ply vests. I'm knitting up the wrap version but am having to adapt it slightly to sub in 4ply. I know it's supposed to be a vest but I think it'll be fine for a lightweight summer cardigan.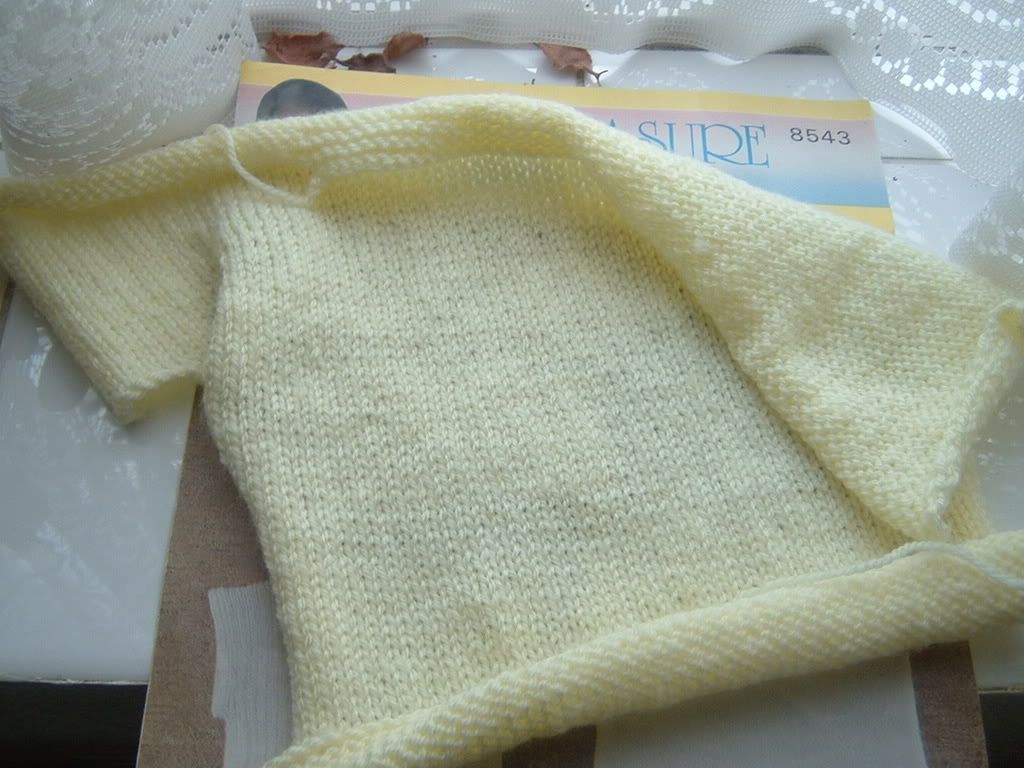 There's really not that much to see at this stage (it is the back after all!) but I should be able to get some way into the first front this evening if the lure of the Monkey's isn't too strong. It should be really pretty when it's all done and hopefully it won't be too girly in case she has a boy!