I'm heading north for a few days tomorrow to see the family so I think I'd better have a quick catch up before heading off. The baby cardi is now almost finished, it needs blocking properly and I still have to pick up the stitches for the cuff on the sleeves. It's very pretty but I think it is probably a bit girlie. I'm still toying with the idea of knitting up a shawl as well but I think that maybe I need to knit another (more boyish) cardigan just in case. I know that I can always give the spare to Nadia for her orphan charity.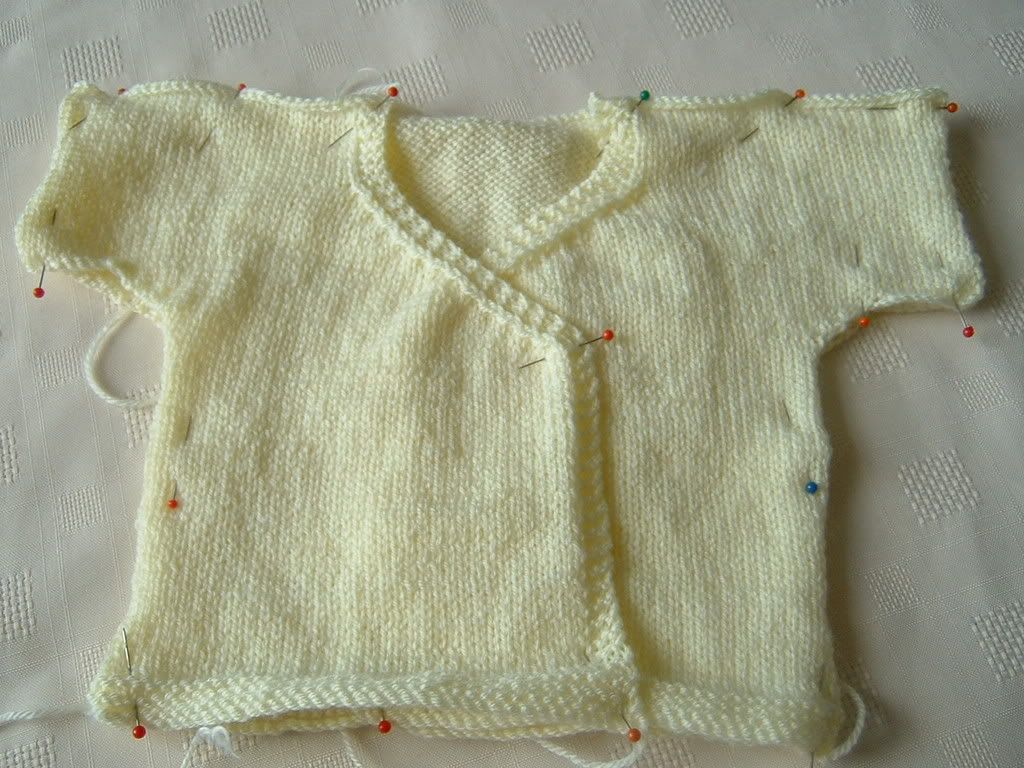 I finally got out my dye pots again. The hanks have been wound for more than a week, I was just waiting on some child free time to get busy. These colours have been inspired by the AY Summer Secret Santa and are called Raspberry Ripple and SkyBluePink, they're both 4ply, 100% wool.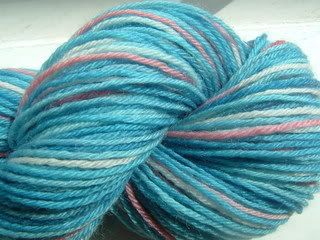 I haven't decided whether these will be gifted in my SS parcel yet or not. They're handwash so they can't be used for my Sockapalooza Pal either but I haven't ruled out dyeing them a special colour yet either. I don't think I have a suitable yarn in my stash to dye (even with recent purchases) so I'd need to do a spot of shopping. Any excuse hey.
I'm about to go and get my knitting bag packed. I've got to make sure I've plenty of things to keep me busy as I have a six hour car journey tomorrow. (yuck!) Luckily I won't be having to drive it all myself but I may end up spending the time keeping DS amused. He's just come down with chicken pox. Talk about perfect timing - 3 days before the holiday! Still, the cottage is booked and we're expected so there's no going back. It should be a good week so long as the weather improves. Unfortunately, Northumbria in the rain can be pretty bleak.
Hmm, what to take with me? I've already got the Monkeys OTN and the baby cardi to finish. I think I'll stick the spare ball of baby wool in and I've a ball of Opal Toucan to knit up which I think might end up as another pair of licketysplit socks. I want to test out Kay's
Parasol socks
or Bronte's
Cairi's Sweetheart socks
as well at some point as atm they're my patterns of choice for Sockapalooza. Although, I think that maybe I need a plainer yarn for those than the Toucan so as not to swamp the lace patterns. Hmm, best get to packing then.